with beet cabbage and potato roll with onion
Ingredients (10 servings)
| | |
| --- | --- |
| 2 kg | duck breast with skin |
| to taste | salt, herbs - thyme |
| 2 kg | beet |
| 0,1 kg | flour |
| 0,05 l | vinegar |
| 0,1 kg | sugar |
| 3,8 kg | potatoes |
| 2 ks | eggs |
| 0,25 kg | coarse flour |
| 0,25 kg | semolina rough |
| 1 kg | onion |
| 0,4 l | oil |
Wash the duck breast, saline, vacuum into a vacuum bag and place in water at 60 ° C for 50 - 55 minutes. After boiling the breasts, cool it down in the blast chiller. This prepared and vacuumed breast will last for several days still fresh. When ordering, the breast is pulled out of the bag, put on a cold pan with a little oil and so cook the breast into a crunch. Finally pour water from the bag. Do not salve, do not flavor.

Beet Cabbage - wash the beets and boil in the shell in steam to make all juice and values inside. Cool the beets in the blast chiller, then peel. Then grate roughly and proceed as for normal cabbage. Boil, thicken a little with onion-free roux, season with salt, sugar and wine vinegar.

Potato roll with onion – fry the onion finely in brown and squeeze out the oil through the colander. Let it cool. Squeezing the oil will make the onion crispy, the roulade is also not greasy from the inside and keeps itself close.

Roll the potato dough into a 1 cm rectangle. Lay the whole onion evenly on the onion, gently salt. Roll it into a snail, then into a food foil or aluminum foil and steam for 25 minutes. After cooking the roll, pull it to the blast chiller and cool down. Cut the roll cold to avoid disintegration and heat on steam before serving.

Before serving, warm up, put on a plate, duck breast, demi glace sauce and decorate.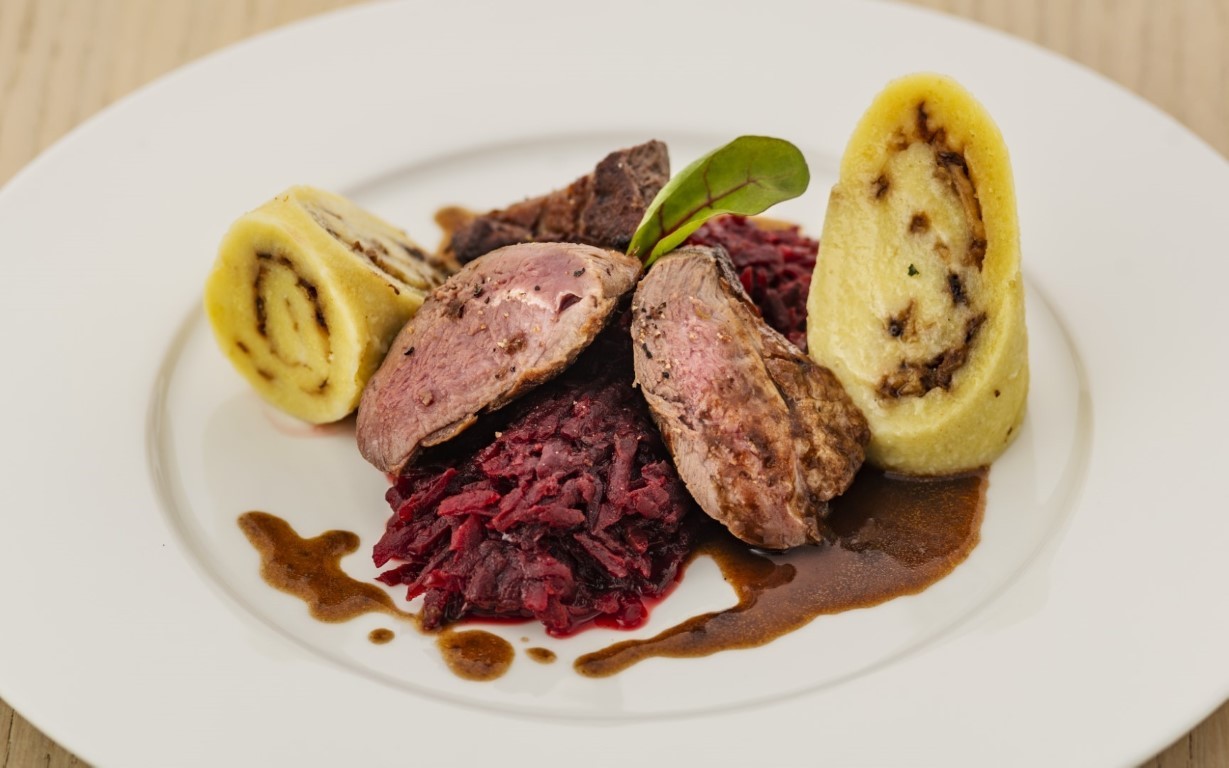 Address: Restaurace Hnízdo, Kigginsova 2, Brno-Slatina 627 00
Monday - Friday 11:00 - 21:00
Saturday 11:00 - 22:00
Sunday 11:00 - 20:00